DIGITAL ART COMPETITION

Deadline for submissions has past

This year's competition included $3,000 in prize money. Jurors were members of the Guild of Digital Artists: Alecia Rossano, Dan Colvin, Tony White & Jordan Gottlieb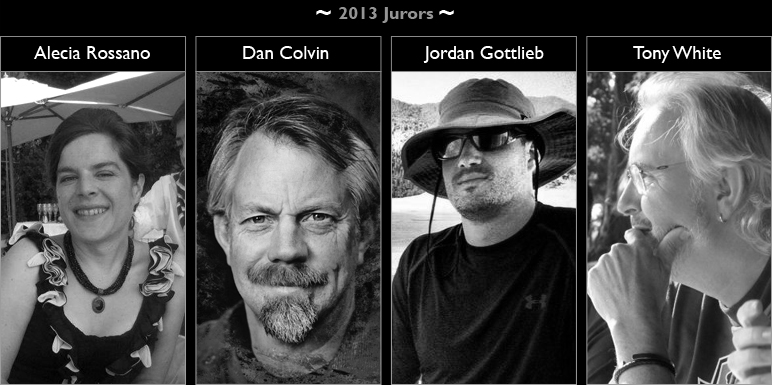 To learn more about our jurors, check out their website:
Alecia Rossano
Dan Colvin
Jordan Gottlieb
Tony White


The DAFNE yearly art show and contest is a great way for you to get your work seen by some of the leaders in the digital art world or better yet, your chance to get the proper recognition and prize money you deserve for your efforts! ALL SUBMISSIONS, yes, ALL OF THEM, will be displayed publicy on the Digital Art Festival facebook page.

Read the terms below and click the I AGREE button to email us your entries. You can submit up to two (2) works of art at no charge. Everyone can submit artwork and if you live too far away or overseas and it's too difficult to ship your work for the exhibit, you can opt out from the art show but still be considered for the contest.

Enjoy some of last year's submissions as you read through the details :)

CATEGORY #1
Best 3D Digital Sculpture
Award: $500
Deliver as:
360 turn-around video of your model (.wmv)
1280x720 or higher resolution (can be landscape or portrait)
CATEGORY #2
Best Digital Illustration
Award: $500
Deliver as:
1280x720 or higher resolution jpeg. (can be landscape or portrait)

CATEGORY #3
Best Animation
Award: $500
Deliver as:
Digital download in .wmv or .mp4 formats
800x600 or higher resolution (can be landscape or portrait)

CATEGORY #4
Best of Show
Award: $1,500
Calling all video game developers, interactive designers, installation artists! While this award is applicable to all submissions recieved we want to open up the door for any wild card creatives out there doing work that is too edgy to fit in any of the existing categories. You know who you are! :)

For example, you may be doing cool things with projectors, lasers, or game consoles, touch-displays, perhaps you re-engineered a smart phone and made it do something no one ever thought it could do, or created a beautiful abstract animation purely through code. Whatever it is you're concocting, the jury wants to see it and share it at the festival to celebrate your creativity.

Deliver as:
Please use your judgment and submit your work in a format that it high enough resolution to be clearly seen and appreciated. For video consider using the .wmv or .mp4 formats, for still images use jpegs, etc. If your work is an installation, please submit multiple photos or videos so the work can be fully understood and appreciated.

TERMS & CONDITIONS

Overview

Everyone is eligible to submit images for consideration. The only requirements are that:

a) Art submitted must be original, 100% created by the person (or team of people) submitting it and must be submitted by the creator.

For example: If the artist is using photography manipulation or tracing over photographs, all this source material must have been created by the artist. Licensing photographs from stock sources does not qualify as an original work of authorship. Derivative works are not allowed!

b) Artwork must be created digitally or assisted by digital technology (2D or 3D, still or video, real-time or pre-rendered, static or interactive).

c) Photography and live action are allowed as long as the result could not have been accomplished without the assistance of digital technology

d) Animated films must be no longer than 15 minutes in duration.

e) Live action films are permitted as long as some form of digital enhancement, such as animation or other special effects have been used. Merely using a digital camera or digital editing or color grading are not sufficient qualifiers.

Artists may submit up to one (1) submission free of charge. Additional submissions cost $10/each. There is no limit to how many submissions an artist may enter. If you are unable to verify your submission, please email artcall@digitalartfestival.com with the details of your submission.



Terms

By submitting your film/artwork, you agree that the copyright to your submission is owned solely by you and is not protected by trade secret or otherwise subject to third party proprietary rights, including privacy and publicity rights, unless you are the owner of such rights or have such rights or have permission from their rightful owner to submit this material to the Festival.

Should at any time the submission be discovered to be in violation of any terms listed here, it will be immediately disqualified from the show and any possible awards.

Final Format

If your work is selected to be shown in the digital art exhibit, we require that you supply us with artwork that is ready to hang, display or play. If the work does not arrive in a condition that is ready for displaying in its proper form it may not be displayed. All video pieces selected will be displayed on a large screen. We request that you mail us your film on DVD in .wmv or .mov format or email us a link to download from.

Sales

Artists may choose to list their work for sale. We will handle all sale transactions. The gallery will take a 50% commission on the sale, so price your work accordingly.

Use of Images

Submissions may be used in a public exhibition and or a film festival. All entrants agree that any artwork they submit may be used by the Digital Art Festival in its marketing and promotional materials, be it in print, video or electronic distribution.

Selection

All submissions will be judged by a jury composed of: Alecia Rossano, Daniel Colvin, Tony White and Jordan Gottlieb. Some works will be selected for the digital art exhibit and of those, four will be selected for the cash prizes. Only submissions received by October 15th, 2013 before 11:59pm PST, will be eligible for cash prizes and the festival art exhibit. All decisions of the judges are final. Awards will be made by check after the completion of any required tax documents and presented on the opening night ceremony.

If insufficient submissions are received in any one category in order to determine a winner, the jury reserves the right to withold awarding prizes in such cases.


You will know your submission has been processed fully when it gets posted on our facebook page.

Please include the following information in your email to us:
- Your name
- Artwork title
- Technical details (software, technique, etc)
- URL (if you have one)


TO VIEW PAST SUBMISSIONS Click here

TO VIEW PAST AWARD WINNERS Click here

TO VIEW PAST JURORS IN ACTION Click here